"What a gift this book is. I can't stop thinking about it. It's profoundly spiritual, and profoundly human."





- Kathy Waeckerle,

RN

FIERCE BLESSING:
A Journey into Alzheimer's, Compassion, and the Joy of Being
(Colorado Book Award Finalist memoir)
is a personal yet universal story which challenges the Alzheimer's stereotype of "loss of loved one." Read this moving memoir and see this disease in a new and more hopeful light.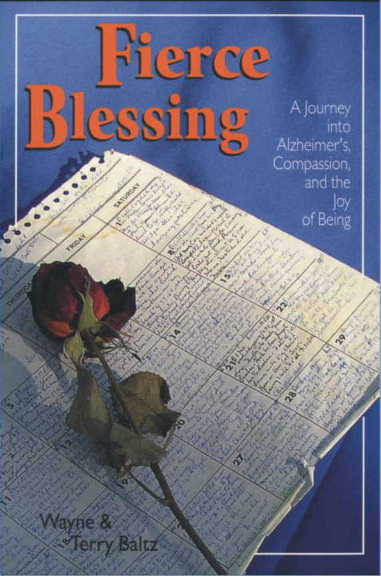 "This is the best book on Alzheimer's I have ever read." -Carolyn Carter, ACSW, hospice

Fierce Blessing a Writers Digest Award Winner:
WD calls it "well written," "attention-holding" and "uncompromisingly honest."
The magazine cites "an undercurrent of joy and peace mingled with tender grief [which] leaves the reader with hope, not for [physical] healing . . . but for the beauty of lessons learned along the way."

"Highly recommended." -Midwest Book Review

"A must read for anyone who has a parent!" -Glen Price


Purchase Fierce Blessing:


You can also order via


See what readers of Fierce Blessing have to say:


View enlarged versions of the front and back covers
or read Chapters 1 & 2 of Fierce Blessing:


Read an interview with the authors:


Learn more about the authors:


Schedule an appearance by the authors, click here:


Click here for information about the authors' popular children's novels, and school presentations:

---
newbus2@baltzbooks.com or call: 970-493-6593 place an order
Prairie Divide Productions
PO Box 129 Red Feather Lakes, CO 80545
Copyright 1998-2022, PDP
Permission hereby granted to all site visitors to download portions of site for personal, non-commercial use; to educators, librarians and related professionals for use in activities related to their professional capacities; and to journalists and news professionals to excerpt as needed for use in reviews, news stories, and similar activities.